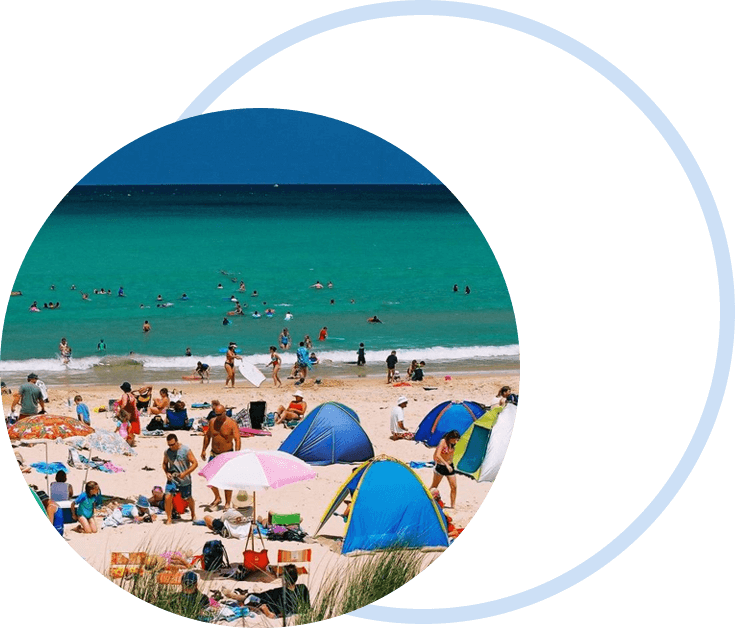 Visit our beautiful
Merimbula location
Looking for the perfect Merimbula location? Apollo Apartments are perfect for your holiday accommodation close to the beach in Merimbula.
Adjoining a bush reserve, it is only 150 metres to Merimbula main surf beach and 200 metres to Merimbula Lake and boat ramp.
Within a casual stroll is the picturesque sheltered beach at Mitchie's Jetty and Ford Park. Merimbula town is only 15 minutes level walk away with shops, restaurants, cafes, bowling and RSL clubs.
Apollo Apartments Merimbula – Beach accommodation located on Merimbula's popular Fishpen peninsular.
Merimbula is easily accessible by car from Canberra, Sydney or Melbourne. Regular bus services and flights in and out of Merimbula are available.
Getting to Merimbula on the South Coast of New South Wales.
2 hours
from the Snowy Mountains
Regional Express has regular flights in and out of Merimbula from Sydney and Melbourne.
Buses operate daily from Melbourne, Canberra and Sydney.
Apollo offers free airport and bus transfers, please let us know in advance.
Merimbula holiday attractions are among the best on the Far South Coast with beaches and entertainment for young and old.
Still an untouched area, Merimbula boasts magnificent scenic walks through national parks, wildlife and family recreation parks as well as interesting day trips both on the south coast and inland.
If you are a bowler or a golfer you will find the Far South Coast has it all for you. Make your home Apollo Apartments during your stay and relax in comfort.
Merimbula surrounded by National Parks,
wilderness and forests.
The many National Parks with endless white sandy beaches and pristine clear waters of the ocean, lakes and rivers are perfect for bush walking, fishing, bird watching, snorkeling and swimming.
Any activity and sport that has
to do with water
Merimbula has 9 magnificent lake and surf beaches where you can participate any water sport you can think of: swimming, surfing, windsurfing, diving, kayaking, snorkeling, canoeing, kite surfing and all types of fishing.
Dolphins and Whale Watching cruises operate from Merimbula between September and November, or watch them from Merimbula Short Point. All year around Merimbula fishing with daily reef and deep sea fishing trips.
Sport and Adventure
There are many other sports and adventure you can enjoy whilst in Merimbula: horse riding, bowls, tennis, squash, ride the bike tracks or try Mountain Biking at Mandeni, Tathra or Bermagui.
Merimbula Holiday Attractions, Events and Activities
If sight seeing and other activities are what you are looking for during your visit, try: hire a boat, lake cruises, scenic flights, native animal wildlife park Potoroo Palace. Take a scenic drive along the coast or inland to picturesque towns, rain forest, lagoons, local markets and gourmet trails. Spend your time with your kids with the Theme Parks and Leisure Centres below.
Subscribe to our mailing list
for great special deals!